Digital marketing for senior living communities
Thank you for exploring our information, insights, and unique proposition regarding your senior living community.
---
The demand for senior living
The demand for senior living accommodations and assisted living and memory care services in the United States is fastly growing. Over the next 10 years, over 1 million people per year will move into senior living communities, and new communities are being built all the time. Also, within 10 years, over 25% of the American population will be over 70 years old.
Resident population turnover rates
The population of the average senior living community can turnover by up to 50% in a year. Perhaps in your community this figure is even higher. We understand the high demand communities like yours have for new residents, and we understand how to bring new residents through digital marketing.
How senior living referral agencies complicate this process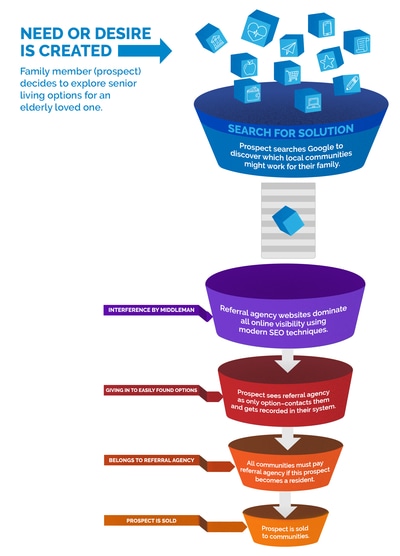 Referral agencies like A Place For Mom do several things:
---
*They recognize senior living communities are in high demand*
---
*They recognize community directors are under pressure to maintain occupancy levels*
---
*They build a strong online presence in every local market*
---
*They bring people searching online for senior living communities to their website, intercept these leads, and sell them to communities*
There is nothing stopping you from collecting your own leads directly
The senior living referral agencies have embraced and implemented strong, modern, digital marketing philosophies which places their service directly in front of people who are searching for senior living at the exact moment they need it.
---
As a senior living community, you have an advantage over referral agencies because prospective new residents can locate you, contact you, and tour your community all in the same day. Referral agencies force users to go through their red tape, input their information, get a call back from an advisor, and then have many options given to them. It's a longer process, and most people will prefer to skip this.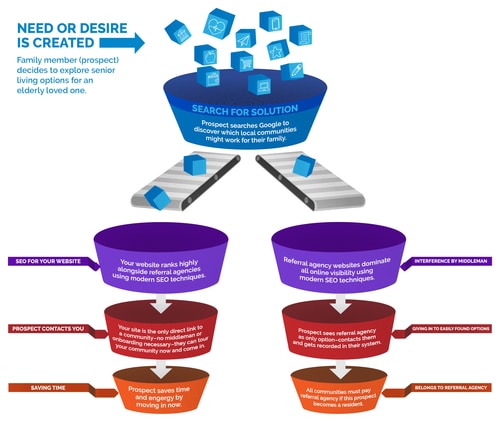 If your website showed up alongside the referral agencies when people search for "senior living", "assisted living", or "memory care" near your location, then you could collect your own leads directly.
---
Our digital marketing service
We understand the nuance of the senior living industry, and we specialize in the full range of digital marketing including lead generation, business growth, search engine optimization, content building, and web development.
We provide this service to senior living communities in competitive markets, and have helped them consistently maintain maximum or near-maximum capacity resident levels. Because we don't sell leads or take commissions on new residents our clients ROI is much larger than buying leads through referral agencies, and they are building sustainable business growth strategies for the future while reducing their dependence on referrals.
Marketing service details
We will provide comprehensive digital marketing, web design, website content composition with continuously added articles, and all website maintenance, to exactly one assisted living or senior living community in any given metropolitan area. The goal of this service is to catch any users searching on Google for a core set of search terms related to the accommodations and services your community provides (such as "senior living", "assisted living", "luxury assisted living", "memory care"), bring them to the client's website, and funnel the user into a preset conversion condition (phone call, email, form submission, chat inquiry, or other condition to be determined.) By accumulating these conversions we can demonstrate the value of our service to the client. Of course, the ultimate goal is for these users to become new residents of the client.
Smart marketing for your community
We understand each individual community has its own culture. Whether your culture is a lifestyle community focused on outings, exercise, and entertainment, or an assistance community focused on care, compassion, and providing the comforts of home, we work to carefully convey your community messaging while helping to bring the right kind of new prospects and residents.
Ask about exclusive marketing services in your region
Naturally, you'll have questions, and the best way to start is with a simple conversation to assess your scenario. We'd like to schedule a phone call to get familiar with your community and see if we're a natural fit with your organization.