Total Control has all the tools you need to control website administration and management within the CMS. Admins (Administrators) are users who are allowed to manage the website. Admins are given a username and password that they use to log-in to the Total Control interface in which they can edit and update the website, including building pages, blogging, and reviewing site statistics. A Total Control website can have as many different Admins as you want. As the main site Admin, when you create a new site Admin you can manage their "Permissions" and determine which aspects of the website they are allowed to Administer.
The Permissions are completely customizable, for each Admin you can allow them to or restrict them from: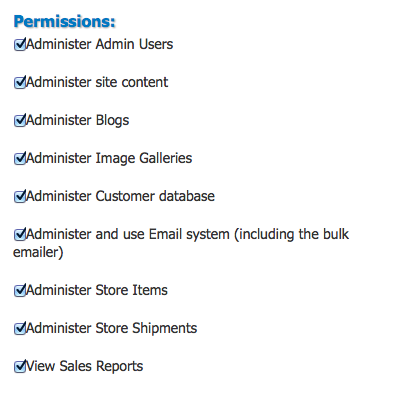 Administering Admin Users - creating new Admins or managing the Permissions of existing site Admins. Administering site content - creating pages, editing, adding, or removing text, and images. Changing page layouts, colors, fonts, and controlling site settings. Also creating or modifying page meta information.
Administering Blogs - creating, editing, publishing, or unpublishing Blogs.
Administering Image Galleries - adding images to or removing images from Image Galleries. Also, creating new galleries.
Administering Customer Database - modifying customers information, adding new customers to or removing existing customers from the customer database.
Administering and using Email System - creating new automated bulk emails or editing existing bulk emails. Also, managing when bulk emails are sent out.
Administering Store Items - adding new items to store, modifying existing store items including prices, images, product details, and other information. Also, removing existing store items.
Administering Store Shipments - managing pending store shipments.
Viewing Sales Reports - reviewing daily, monthly, total sales figures, customer totals and customer statistics.
Total Control contains all of the web tools a developer, graphic desginer, or business owner may need to complete any project. CLICK HERE to discover all of Total Control's features.