We're just finished developing a website solution for a new client located in Ventura County. The client is a group of emergency room physicians who conduct their own continuing medical education seminars around the United States. In addition to working full-time as emergency room physicians, these hospitalists conduct monthly educational seminars.
When they approached us, they had an existing website representing their national continuing medical education courses but they needed to have greater control over the management of their online content including educational materials, videos, course information, and seminar dates.
The site serves as an online medical training portal for emergency room and hospital professionals. Users can create an account, log-in from anywhere, then review the latest educational videos, review procedures in detail, and use the website as a professional and reliable resource.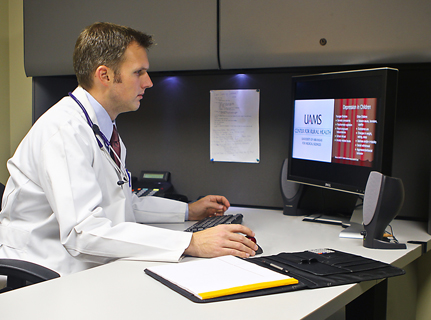 It is very similar to an online educational portal we created for a client of ours who is an endodontist. He was collaborating with universities in the United States, England, and Australia. We created an online portal which allowed our client's educational materials to be made available to students in the dental programs of the corresponding universities. The solution for these ER doctors was similar but was tailored to their specifications.
Back to the ER physicians - their previous website was built in WordPress. WordPress has quite severe limitations in terms of database management, content management, e-commerce / online store functionality, and security of private information - especially financial information, credit card numbers, bank accounts, etc. Eventually there will be issues in terms of security, crashes, updates and versioning, incompatibility, and the site owner will certainly be limited in terms of editing the website which is one reason why our client decided to leave WordPress and use our system.
If that wasn't enough WordPress is a terrible platform for winning search engine rankings - ever hear of the SEO Yoast plug-in? You're not missing anything. Because WordPress in general is not good for search engine rankings this was a huge reason for this client to abandon the platform. Really, nothing about WordPress was compatible with an online, premium medical education portal like we created for our client.
Our solution was to create a new website for them using our Total Control content management system. This solved several issues they were having with their previous website while at the same time providing them with the ability to easily and efficiently manage their entire website.
They had also been investing a significant amount of money into Google Adwords campaigns with limited effectiveness. At the start of this project one of their main goals was to greatly increase their organic (non-paid) search engine rankings because SEO is a major priority for them - this would save them a large amount of money by allowing them to greatly reduce or discontinue their Google Adwords campaigning.
Our CMS is strategically designed to provide optimal SEO results. This system, combined with the doctor's large amount of high quality, professional, and unique content will allow their website to receive great rankings for keyphrases they're targeting, and traffic will be directed to the site from search engines as a result.
This website is fairly unique because it creates a portal for online education that emergency room doctors around the county can access. This can be an invaluable tool for a hospitalist seeking to reacquaint themselves with a particular procedure that they rarely perform or as a general reference source.
The transition into our format has been mostly seamless and it has been a pleasure to collaborate with this fine group of gentlemen.
We like to do projects like this not only because the clients are a pleasure to work with, but also because we're always interested in expanding our portfolio. We want to be the most versatile web programming firm and each project we complete helps to diversify our body of work.
For more information about our web programming, web design, and SEO services please, call 805-243-8321, email team@thefinalcode.com, or of course feel free to visit our downtown Ventura office at 1068 E. Main St., Ventura CA, 93001.