Building Google indexing is a serious challenge for senior living communities. Lead generating referral agencies have saturated organic search indexing for senior living, assisted living, and memory care based searches in nearly every metropolitan and rural area in the United States. If you search Google using a query likely to be used by a family seeking senior care for a loved one, you will find that referral agencies and large directories dominate the content results. This is a strategic maneuver on the part of the agencies and directories.
Targeting a booming industry
There are over one million Google queries per month in the United States performed by people searching for senior care services for a loved one. There are thousands of queries, like "skilled nursing facility" which is searched up to 100,000 times per month, and "memory care" which is searched up to 10,000 times per month. Obviously, the demand for senior care in its various forms in the United States is in very high demand. The senior population (over 65) in the United States is on pace to grow by over one million people per year for the next ten years. This will spill over to an increased demand for senior care services. Savvy businesses who recognize this are working to establish new referral agencies, and new retirement communities are being built in substantial numbers.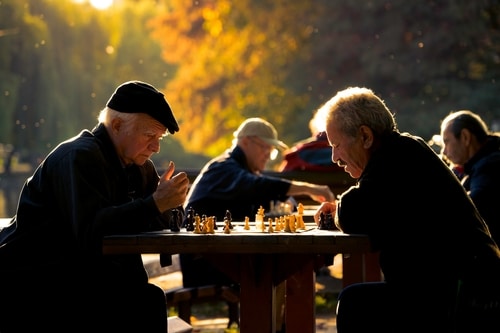 While the demand for senior care is rising, the supply of senior care services is outpacing the demand growth. This doesn't mean senior living communities must accept lower populations necessarily - as it was noted, the senior population in the United States is the fastest growing population segment. But, there are forces moving in the senior living industry that will require communities to adopt more nimble marketing techniques in order to maintain their business, because competition is increasing as new communities are established. It is likely that communities who don't adopt modern inbound marketing techniques may have to accept a new normal of 50% occupancy or less as newer communities sprout up.
Controlling the search engine results
The lead generation space is expanding quickly, and lead generating companies exist in a variety of industries including home services, construction, marketing and advertising, and specialty markets like senior living. Lead generation companies can work to generate leads through strategies such as cold calling, emailing, and SEO - which is the most powerful lead generation tool for most businesses.
In the senior living space, referral agencies have developed very aggressive SEO strategies which seek to place their websites within the top 5 positions of Google Search for any query directly or indirectly related to the services a senior living community provides. It's common to see the entire top 10 search results filled with referral agencies.
The SEO strategy of a senior living referral agency starts with them identifying what kinds of searches a person may use if they're searching for senior care for a loved one. They'll identify all the possible searches, queries and questions, including:
Senior living communities
Assisted living
Memory care
Board and care
… and thousands more
Then, they'll map out every city, geographical area, and broader region in which they want to collect senior living leads. Starting with the largest cities, they will build landing page areas for:
Major metropolitan areas
Medium-sized suburban areas
Rural areas
The top referral agencies have strong SEO and web development skills. For each landing page area, the agency websites will list dozens of senior living communities, including addresses, services and care types provided, amenities, and other related information. This establishes these landing page areas as notable sources of information in Google's search engine. Websites which demonstrate that they can likely answer a user's question or request for information through organized, detailed, relevant site content will be ranked highly in Google Search results if the user's query is related to the site's content and information. This is the foundation of high quality modern SEO. The more listings and landing pages the agency website adds, the stronger its authority becomes for senior living information. Over time, the website of an agency like A Place For Mom ranks in the top 5 for nearly every senior living query in nearly every city due to its massive knowledge base of information, and its perceived ability to answer senior living related requests.
Because the agency website is so quickly and easily visible, most users visit those websites first. Once on the website, the agency works to persuade the user to contact an agency rep who will help place them with the right community.
Once a user contacts the agency, the user is officially an agency "lead". The agency will then refer this lead to a local senior living community, but only if they community has a contract with the agency, and agrees to pay the agency's finders fee.
---
Breaking down the saturation of Google Search results
By testing a very common query used by families who need a memory care community for a loved, we tested the search "Memory Care in New York" to observe what people experience and see during their search process.
Google Ads
The first block shows our query and four Google Ads. The red highlighted content represents two referral agencies. The green content represents two private communities advertising for traffic. As you can see, the referral agencies are immediately paying to have absolute first visibility, and have embellished their ads with reviews, call outs, and site links.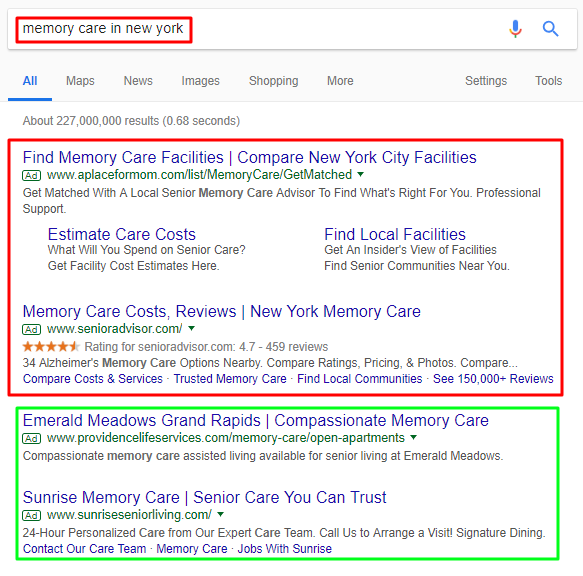 ---
Google Local Pack
The next block is the Google Local Pack. This is dedicated to local based content. This is a strong opportunity for a private community to stand out, but only three are featured, and research has shown most users don't investigate further than the Local Pack, instead preferring the organic results show next.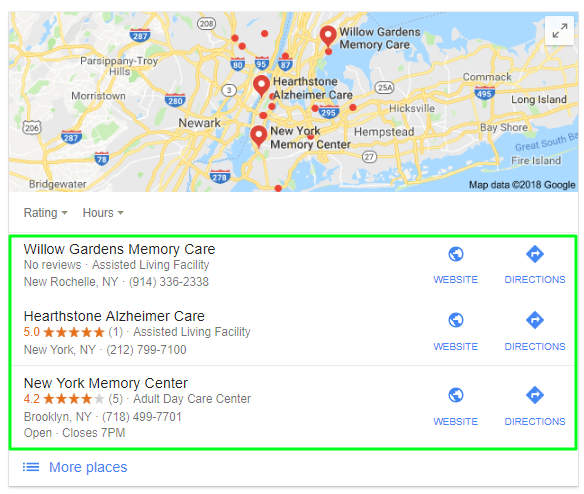 ---
Organic impressions
The next block is the organic impressions. Although this is not the first thing users see, this is the most coveted content placement by marketers because user behavior consistently shows the most site clicks happen here. Users naturally gravitate to the organic impressions, either consciously or subconsciously, generally because most people feel the highest quality, most trustworthy references are found here.
Again, the red content represents referral agencies, which occupy 7 of the top 9 results. Note that A Place For Mom again grabs the top two results. This section is where the agencies are intercepting leads from families searching for memory care communities. You can see the metadata from several directories indicating there are over 100 memory care options in New York. Only two of those care providers are listed.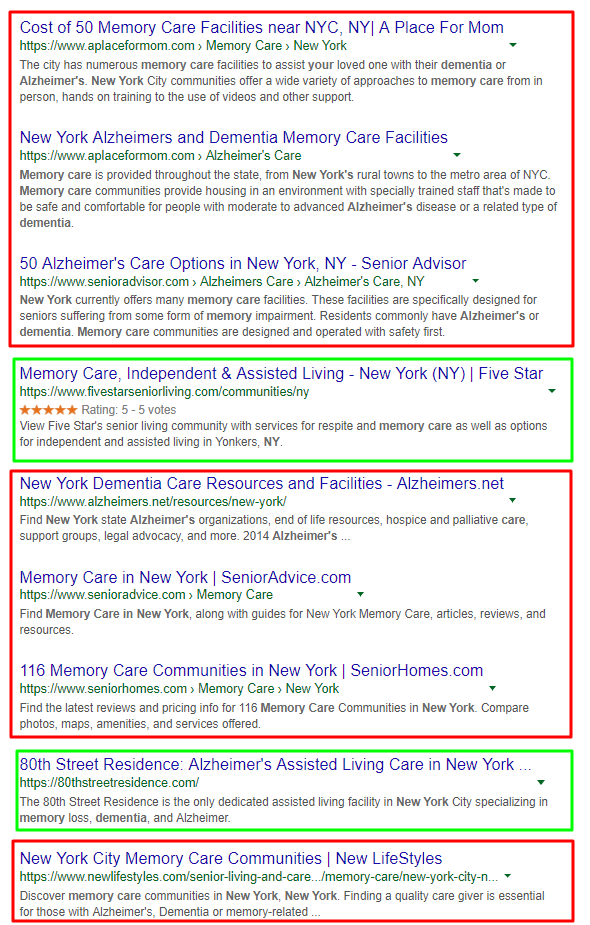 ---
Alternative services and second tier ads
The next block is given mostly to companies providing alternative memory care such as in home therapy, and these are paid listings.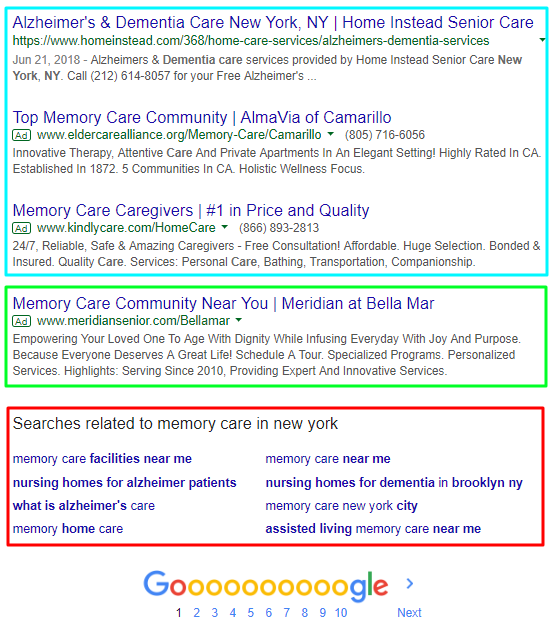 The important takeaway from this how agencies have completely intercepted the attention of users and have worked to block off visibility from private communities. Look at the final red block though - these are related searches that real people have recently searched. The language these people are using show that they are not seeking directories or referral services - they are seeking real care solutions for a loved one.
Agencies may have figured out how to manipulate Google Search well enough to suit their business model, but they aren't genuinely providing users with what they need. If a memory care community built a website that answered these 8 questions (and more), and worked with an SEO company to ensure that Google could index the information on the site, Google would detect this and reward the site with high rankings.
See it from the user's perspective
Users don't want to have to go through middleman to take care of their family - that just isn't a natural instinct people have. They want to go directly to people who can provide the care, ask questions, get answers, and make informed decisions as a family. Would you trust a call center representative to decide where your family should receive memory care? It's not logical.
Going through an agency is only something people do if they don't know where else to look, and agencies are purposely making it so users don't where else to look.
Why buying leads can be an unreliable source of business
Buying leads might seem fine for some senior living communities. And although community owners would prefer to not pay the finder's fees, community directors and sales teams often like the arrangement because leads are brought to them, and they don't have to work to generate interest or source their own leads.
An unforeseen problem with relying on referral agencies for leads is that referral agencies aren't obligated to refer leads to any specific community. For any reason, the agency can decide to refer or not refer to a specific community or group of communities. A few factors that affect the agency's preferred referral destinations include:
Referring to newly built / established communities
Referring to communities who pay the highest finder's fees
Any senior living community can generate its own leads
Referral agencies do not have access to a specialized source of people. They've only done what any website can do: worked to make their site easily found by people searching for information the website can provide.
The website of a private senior living community can rank very well in its local market when people search for things like assisted living or memory care. It needs to do the same thing agency sites have done; anticipate what prospective leads may search for, then build landing page areas containing relevant information. The strategy goes deeper as well, and includes supporting the site with interesting content updates, and ultimately working to build a smart user experience that helps people find info and solve their problem.
It's not easy, and a community would need the help of digital marketing, SEO, and digital strategy companies to be successful. You can see that large, corporate based senior living chains like Brookdale, Sunrise, and Atria, generally perform very well in search engines in areas where they have communities. Although these are large communities, they are not referral agencies and they are doing well in Google Search.
The difference between these corporate communities and smaller scale private communities is that they have in-house marketing directors and production teams to handle digital marketing and lead generation tasks, including search engine optimization.
Use being smaller and private to your advantage
Smaller, private communities can excel in generating their own leads and perform well in their local area by intelligently building their website with search indexing in mind, building unique content showing off life at their community, informing families about the nuance of senior living, and detailing the highlights and unique charm of retiring at their location and in their area.
Because an individual or small group of communities isn't just a composite of data, they can speak directly to users much more personably, with empathy and compassion to families. This is ultimately what families are actually seeking - care and insights that are meaningful to their search. Exploring senior living is a very delicate process for most families, and by providing meaningful answers and direction, a community's website can become the true notable source of information.
Growing away from over reliance on referrals
It could be seen as reckless business strategy for a community to operate in a way that relies on a single source for new business. While agencies are established well enough that smaller communities may have to accept their presence, relying on them completely for lead generation can cause problems. Agencies can stop referring at any time, and have in fact recently begin giving preference to newer communities. Some older communities are finding they're unable to buy enough leads, despite their willingness to pay finder's fees.
Working towards generating direct leads through Google Search traffic should be on every community's agenda for the near future.
---
How we help generate senior living leads for clients
Our role is to produce website traffic, specifically from users who are searching Google for a senior living community or assisted living and memory care services for a family member. Then, we work to design a user experience which converts those site visitors into new leads for the community - such as:
Guiding users to request a tour (for those seeking an immediate move-in)
Call the community to ask questions (for those narrowing down their options)
Request brochures (for those who are planning to move-in a few months down the line)
In order to do this, we work to research and understand the senior living industry at large, and identify the ways that prospective residents search for communities. To earn high Google rankings for the searches that prospective residents use, we strategically build content to establish your websites as notable resources of information in Google's ranking system. This is the foundational philosophy of high quality, modern SEO.
By establishing and maintaining your site's positioning for many different queries, we seek to maximize traffic and your business' visibility in its local market. Our strategy is also the same as the best performing businesses in the senior living space like A Place For Mom - maximize traffic from Google Search results. We have a deep understanding of how to limit ranking fluctuation, hold high rankings, and compete alongside directories.
Through approximately four years of lead generation and SEO work for senior living communities, operating in an extremely high competition market like Los Angeles, we have developed a fluent understanding of the dynamics of the senior living industry. We have a nuanced understanding of the history of referral agencies like A Place For Mom, and we understand how they have worked to suppress the natural lead generation capabilities of community owners.
---
THE FINAL CODE
Senior Living Marketing
We know the senior living industry and how to generate direct leads for your community because we've done exactly that for years, competing against the industry's stiffest competition in Los Angeles, CA. We see that referral agencies do not add value or quality of life to the senior care industry, and we want to help your community thrive and improve the search experience for families. We're helping senior living communities in Southern California thrive, and we want to help yours as well.