SEO is a digital service that is sought by nearly every business who provides services to clients or customers in a specific geographical region. When a digital marketer works to build a company's presence on Google Search, and targets users in a specific area, or targets users who specify that area in their query, that service is called "Local SEO" by marketing professionals. This can be a source of much confusion for companies who don't have a strong knowledge of SEO and digital marketing. It's also common for companies who are seeking a local marketing company for SEO work to search for "Local SEO", meaning they're looking for a local company who can do SEO work for them. As a result, the phrase *local seo* is a double entendre of sorts. Knowing this, we think it will be helpful to provide some insights into the key concepts of local seo (the service) and examine how a local seo company can perform the service.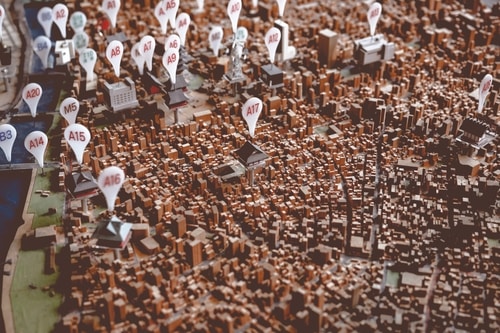 When is it local SEO?
The defining factor that separates local SEO from broad SEO, is that local SEO is focused primarily on ranking for target phrases when:
A user searches Google for a target phrase, and specifies the target location. This is the primary goal of local seo.
Consider an attorney practicing in Los Angeles. If the attorney is pursuing local seo, then they will want to index their site on Google Search anytime a user searches for "attorney los angeles", or "attorney in los angeles". The search results that are generated from the query "attorney in los angeles" (local seo) are much different than the results from "attorney" (broad seo).
Let's test a broad search for "attorney" and analyze the results (tested from Ventura, CA)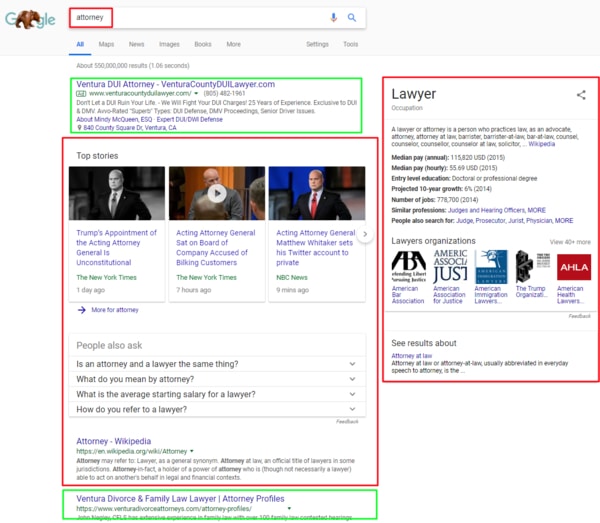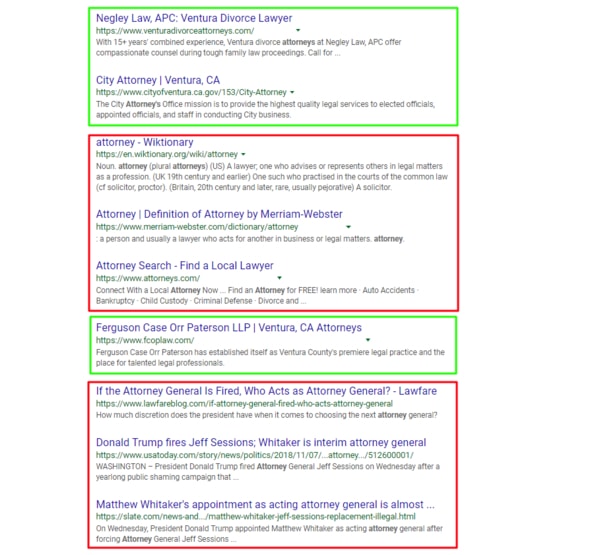 When a user searches for a type of person, service, or solution, without specifying the location in which they need it, the results are very broad. The red content represents broad content, and the green content represents local results, including a paid ad, which actually isn't a local seo result. While some local Ventura results do appear, you can see Google is primarily concerned with answering the question broadly, since it was a broad question.
You can see why users are naturally trained to be more specific when they search. Searching more specifically is produces more relevant information. If users over time find that specifying their location when they need something local, like a local attorney, produces more relevant results, then it is a smart strategy for local attorneys who want those users to find them to use a local seo strategy to place their content in those prospective client's Google results.
Let's test a local search for "attorney ventura ca" and analyze the results (tested from Ventura, CA)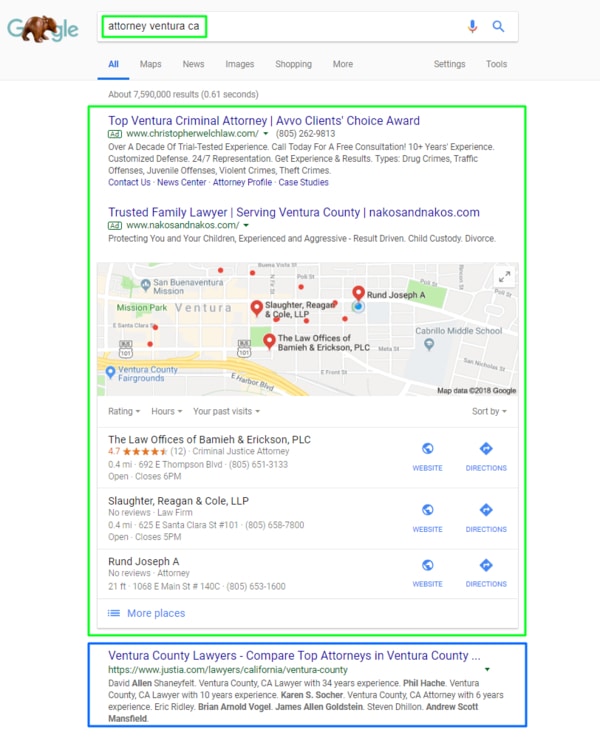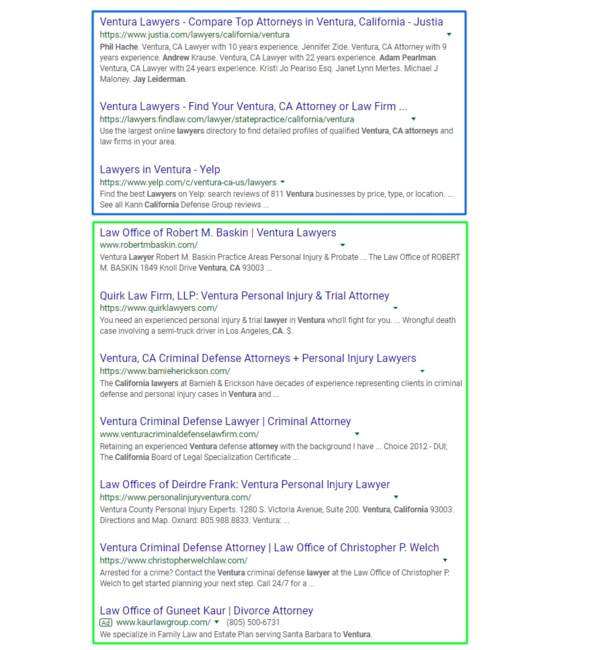 Here, the green content again represents the local results, and the blue content represents local listings and directories. Notice that there is none of the broad (red) content? All of the results have relevance to the local Ventura market, including the paid ads. Instead of the knowledge graph and news results found in the broad search results, the google local pack (business listings with addresses and reviews) is present. Instead of news results, there are more websites representing local attorneys and directories listing local attorneys. Interestingly, the few local results that appeared in the broad search results don't appear in the local search!
Clearly, specifying a location completely changes the search results. A user who needs a local attorney will receive much better information if they specify where they need the attorney. If you're a business, and you're searching for clients or customers in your local area, then you can see the power that a local strategy can have. Local seo is how you'll be able to rank in the first page of results for location specific searches.
You'll also notice that there is quite a lot of content on the first page of results. Between local business listings, directories with local providers listed, and the websites of local providers, a user has more options than they can possibly consider to find an attorney, all directly on the first page. This is why it's important to rank as highly as possible for as many queries as possible - if users don't have to dig deeper than the first page for an answer, or option, then they usually won't.
How we perform local SEO
Competing for rankings in a local area removes a lot of the digital noise from content like national news and informational sites that is not relevant to the person searching for a local service, product, or solution. While taking the broad content out of the equation helps to narrow the task, optimizing a website for local search results does add an extra layer of content to the site.
In keeping with the attorney reference, in order to rank for a query like "attorney in ventura, ca", we have to show two things to Google:
> The website is a notable source of information for legal information, including attorney services.
> The website is associated with a legitimate attorney who is practicing in, or based out of, Ventura, CA.
Establishing the site as a notable information source uses content marketing. In this example case, this would involve building informative, authority grade content describing the legal service provided, explaining in specific detail the kinds of cases and results that have been produced for clients, and demonstrating how the attorney is qualified to handle the legal services that are being offered.
Now, to also signal to Google that this website indeed represents an attorney practicing in the local market requires that the content be shaped from the perspective of a local attorney who actually understands the local legal environment. Simply mentioning that the attorney is located in the target area, or listing their address on the website, is not enough to build rankings. Looking at the search results listed above, you can see that the local search results are too competitive for that to work. Some unique insights about local cases, analysis of the local court system, and other information that shows not only expertise in attorney services, but also a deep understanding of providing attorney services in the target market, is how strong, lasting, repeatable rankings in the local search results can be achieved.
Should you hire a local seo company (near you) for a local seo campaign?
If you're a business in Ventura, and you want to build local SEO for your business, should you find an SEO provider in Ventura? We think that is the best starting place. Keeping in mind that to build long lasting, substantial rankings for local results, your website needs to demonstrate mastery of the subject of your business, and it also needs to show familiarity and understanding over the local area. An SEO provider who lives and works in the same area as your business will have greater insights about the local market, and will be better suited to framing your services and solutions from a local perspective. You shouldn't hire a service just because they're local though. If they don't have the writing, content building, and research skills to demonstrate mastery of your subject, being local isn't going to help them build indexing.
THE FINAL CODE
Local SEO in Ventura County
We're a local seo company in Ventura County. We work to understand your business, identify your local seo goals, and strategically shape content to demonstrate authority in your industry, and notability in your local markets, from Santa Barbara to Santa Monica. We're the local seo company for successful businesses in Ventura, Santa Barbara, and Los Angeles Counties including professional services, home services, financial services, engineering and construction.