Digital Marketing - Ventura, California
Grow your business with effective digital marketing strategies
The digital marketing landscape is changing and advancing at breakneck speeds. Digital marketing is a moving target, and a business can only grow in this ever evolving online landscape if they keep themselves updated with the latest changes. In early stages, digital marketing is much like traditional advertising, but as you go deeper, you need to carefully decide the best medium to reach and communicate with your audience. With professional marketing skills, careful planning, and efficient implementation, your return on investment can be realized fast, and at a magnitude greater than ever before.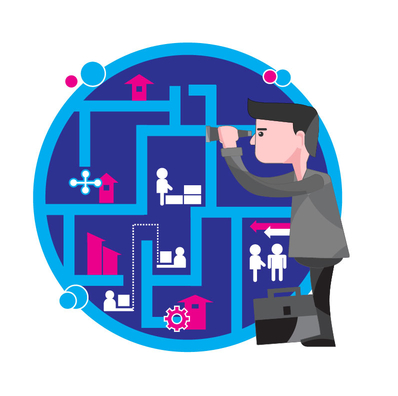 Must-have digital marketing
Digital marketing is an absolute must-have for local services, ecommerce sites, and local retailers. Ventura County has a population of approximately 1 million people. With 81% of people researching services and products online before making a decision on who to use or what to buy, digital marketing opens up your business to millions of dollars of potential new business in Ventura County alone.
A unique characteristic of digital marketing is the ability to interact with your audience in a highly targeted way. For an online business, a professional digital marketing expert can create ways to get most out of this adaptive form of marketing. You will have an expert to help you utilize the right digital channels to promote your products or services, place your website in search engines for users to discover your products or services right at the time they need them, and build a digital brand.
Establishing trust in the eyes of new clients or customers is incredibly important. Digital marketing boosts your credibility in the market, conveys a professional image, and most importantly puts your business in front of your target audience. The first thing you should do is identify and understand your target audience.
A few things you should consider are:
Who are you targeting with your products and services?

How do they search for your products and services online?

Compile a list of ways your target audience searches for businesses like yours.

Create a plan to place your business in front of these users when they're searching online.
Once you have identified who your target demographic is and their search behavior, you can help your business stand out, rather than getting lost in the huge sea of digital noise.
It is essential to choose the best platform to reach your audience. You can choose search engines, social media, display advertising and other options to boost your online presence and interaction with your audience. Search engines (Google in particular) have been demonstrated to be the most effective digital marketing solution by far for most local business.
Periodically, you should measure your digital marketing efforts and adapt accordingly. The landscape of digital marketing is known for its rapid change. This may seem challenging for you initially, but this is the best benefit of going online.
Contact us for a free consultation
The Final Code is a trusted and long established digital marketing agency serving Ventura and Santa Barbara for over 15 years. We will work with you as your digital marketing consultant to help you identify and reach your target audience with your your products and services. We'll design a custom solution which will serve as the foundation of your digital marketing strategy.
2016 is almost here. Start the new year off on the right path. Contact us today for a free consultation and to learn more about how we can help grow your business.