As a digital marketing agency, clients often seek our guidance and insight regarding business reviews. Common questions include how to earn more reviews, how many reviews are enough to really make a difference in attracting new business and building trust, and what platform provides the most value. Many factors contribute to building trust in the mind of the consumer, and what kind of reviews and how many you need to establish trust and authority will depend on your industry, your competitors, and your target audience.
For most businesses, Google reviews can produce the highest level of trust building and the most value for your business. If you could only choose one platform to accept reviews of your business on, it should be Google. Here's why:
Google reviews increase your business' indexing on Google Maps and Google My Business
This may seem like an obvious quality, but it's actually overlooked or unknown to most businesses. When clients or customers leave a Google review of your business, it increases the chances that your business ranks in the Google Local Pack (the featured businesses) when someone searches for *anything* in *your location*. If you're a Neurologist in Los Angeles, and a person in Santa Monica searches "Neurologist near Los Angeles", you have a strong chance of ranking first in the Google Local Pack if you have more reviews than any other Neurologist in the Los Angeles area.
In fact, let's test that query on Google Search: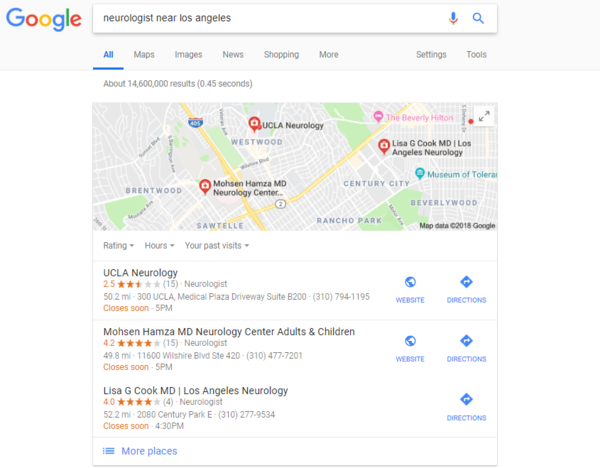 Although UCLA Neurology doesn't have the best total rating at 2.5 stars, their 15 total reviews is tied for the most of any Neurology resource in the Los Angeles area. As a result, they're ranking first in the Google Local Pack. Mohsen Hamza MD also has 15 reviews and ranks second in the local pack. Most other Neurologists in the Los Angeles area have between 1 and 3 Google Reviews, and they're listed in the "More Places" expandable results. Ranking highly in the local pack has serious lead generation benefits as more and more users call businesses directly from the local pack results, and click their website direct links. For some markets and industries, local pack results can equal hundreds of calls and website visits per month.
So, how many reviews do you need to dominate the local pack?
It's not about a specific number of reviews, but rather a ratio of reviews compared to similar businesses in your local area. Acquiring three times as many reviews as your competitors is an effective cushion to target, or a 3:1 ratio, and this is the review ratio that Mohsen Hamza and UCLA Neurology have compared to other neurology resources in the Los Angeles area. This means you should try to earn 3 reviews for every review your competitors earn. Notice that we say ratio instead of citing a specific number. This is because the actual number is totally variable depending on your business, market, and how many reviews businesses like yours are earning. In niche industries like medical specialization, you may only need a few dozen reviews to establish a 3:1 cushion, while super high volume businesses like restaurants will likely required hundreds of reviews to establish that separation from their competition. Of course, this is only a guideline, and there can be exceptions to this, but if you're determined to lead the local pack, building a 3:1 review ratio is a strong foundation for your digital presence in the local market.
The reasonable sample size clause
Now, while a 3:1 review ratio is a great target, in order for these reviews to really build trust with your target audience, there does need to be a reasonable sample size of reviews. While having six reviews compared to your competitor's two reviews does provide a 3:1 ratio, and this may give your listing an edge in the Google Local Pack, this is still a very small sample size of reviews, and despite the 3:1 ratio, you still only have 4 more reviews than your competitor. For some prospects, six reviews may not be convincing enough to really build trust, especially if the reviews are brief, generic, or don't contain any text at all. The reviews need to tell a story, and establish a pattern of clients and customers having consistently great experiences. For the cautious prospect, they may need to see more. Therefore, while the 3:1 ratio can help produce visibility, you should work to earn enough reviews to genuinely establish a strong pattern of great work, and build a reputation that shows the reviews are not a fluke.
Google reviews are presented to any user who searches for your business by name on Google Search
Making people aware of your business is a necessary first step in order for them to consider purchasing from you or hiring you. But it takes more than awareness to acquire new business. A person in the consideration phase of the hiring or sale process will research your company. If this awareness was generated through an outbound sales technique like email marketing, a sales call, or a networking introduction, the prospect is likely to Google your business to find your website. Doing this will generally trigger your business' Google Knowledge Graph.
Let's test the query "Amgen in Thousand Oaks CA"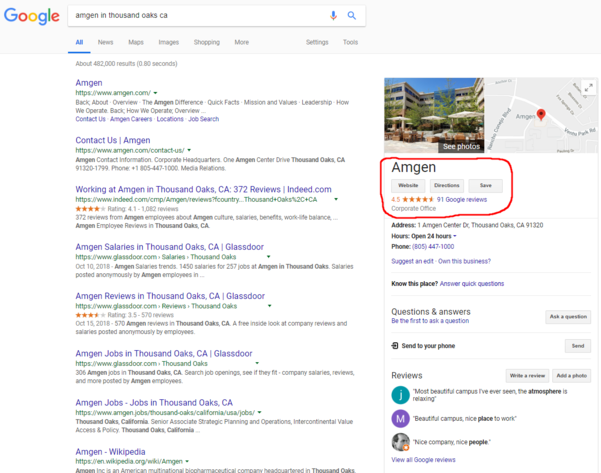 Of course, Amgen's website and many of their profiles on job search sites appear in the index, and the Knowledge Graph for their business is triggered. The first information snippets shown are their business name, followed immediately by their rating on Google Reviews and the number of reviews. Prospects researching your company will be presented with this information. If your Knowledge Graph has significantly more reviews and a higher rating than your competitors, this is a very valuable trust building asset for your business.
Conclusion: You need more Google reviews
If your goal is to stand out from the competition and similar businesses, you need substantially more reviews than your competitors so that a prospective customer or client can not ignore the sheer volume of positive feedback. Google is the most used resource people use to search for products, businesses, and information. It's logical to collect reviews of your business where the most amount of people are actively looking for information. Google reviews can help your business be discovered by people, then those reviews also help to build trust with those people so they will actually feel comfortable hiring you or buying from you.
How we can help your business build its review library
We embrace the entire gamut of digital services in pursuit of client growth. We support all digital assets, carefully examining how to extract the most value out of each component to meet the project's success milestones. Your project may include any combination of web development, web design, content creation, ecommerce, search, conversion and sales optimization, analytics, social, project management, and all support for all digital touchpoints and assets.
We can help you build your Google review library by identifying key opportunities in your market, industry, and your business' workflow, then by implementing smart remarketing strategies. We only support using techniques and behaviors allowed and endorsed by Google to encourage audience reviews to ensure that your efforts are helping your business' digital profile in the short and long term. Review building in conjunction with a comprehensive digital marketing strategy is a powerful marketing tool that your business must have.