by Jeremy Fishman

Guest Analyst from Clutch Agency
SEO can be confusing and many firms offer a quick fix, these are easy traps to fall into. But with over 15 years of experience, The Final Code understands the true value of doing SEO and web development the right way; even Forbes agrees with us .
The Final Code uses their expertise to improve online traction while also helping their clients understand how SEO works in the real world, as a result they were listed by The Manifest as a top 50 PHP development company of 2018. On top of that, they now have the customer reviews to back it up.
Clutch, a ratings and reviews platform that helps small to medium businesses connect with development, marketing, SEO services providers. Clutch does this by conducting verified, in-depth customer interviews that then help businesses do research on potential partners.
Did you know that 62% of business decision makers rely on online reviews before deciding whether to work with you?
That's why it's so important for The Final Code to have a Clutch profile! Here's what was said about their work on their Clutch Profile: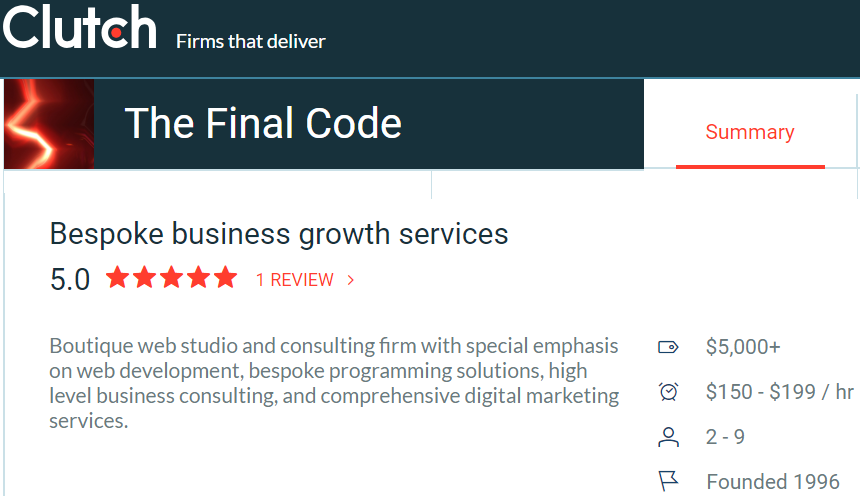 "After launching the site, we saw both our visitor volume and sales conversions triple within two months. Everyone who has seen the site loves it."
Owner, Galfer USA
Clutch used our industry leader matrix to determine The Final Code's "ability to deliver" by considering reviews, portfolio, and market presence. Even before this they have aligned their values to take pride in the relationships we build to help our customers succeed, and Clutch has taken the time to back up The Final Code's previous case studies.
Reviews like these validate The Final Code's constant efforts to use innovative white-hat SEO techniques in boosting their client's traffic. With over a decade of satisfied customers, we'd love to hear more about your experiences, write a Clutch Review today!